Safety switch CET3-AP-CRA-AH-50X-SI-C2290 121367 EUCHNER VIỆT NAM
100% Germany Origin

Euchner Vietnam

Article: CET3-AP-CRA-AH-50X-SI-C2290-121367 Safety Sensor
Order no.: 121367


Safety switch

100% Germany Origin

Euchner Vietnam

Article: CET-A-BWK-50X
Order no.: 096327


ACTUATOR
CET3-AP-CRA-AH-50X-SI-C2290-121367 

(ORDER NO. 121367)
Non-contact safety switch CET-AP-…, M12, with wire front release (bowden), for connection to decentralized peripheral systems
Safety switch with guard locking and integrated evaluation electronics

Locking force up to 6500 N

Direct connection to decentralized peripheral systems (e.g. ET200pro)

Short circuit monitoring

2 safety outputs (semiconductor outputs)

Category 4 / PL e according to EN ISO 13849-1

With 2 plug connectors M12

Unicode

Indication of the door position by LED

Wire front release (bowden), 5 m

Approach direction A (delivery state)
Safety switch
The device may be operated only in conjunction with the actuator CET-A-….
Important: The actuator must be ordered separately.
Unicode evaluation
Each actuator is highly coded (unicode). The switch detects only taught-in actuators. Additional actuators can be taught-in. Only the last actuator taught-in is detected.
Solenoid operating voltage
Guard locking type
| | |
| --- | --- |
| CET3 | Closed-circuit current principle, guard locking by spring force. Release by applying voltage to the guard locking solenoid. The door position is also monitored. The door monitoring output OUT D is set to HIGH as soon as the actuator is above the extended plunger (state: door closed, guard locking not active). The output OUT D also remains set when guard locking is active. |
LED function display
| | |
| --- | --- |
| State LED | Status LED |
| DIA LED | Diagnostics LED |
| LED 1 rd | illuminates when the solenoid is energized |
| LED 2 gn | illuminates when door is closed |
Category according to EN ISO 13849-1
Due to two redundantly designed semiconductor outputs (safety outputs) with internal monitoring suitable for:
Category 4 / PL e according to EN ISO 13849-1
The stated safety characteristics apply to any installation orientations of the safety switch.
Important: To achieve the stated category in accordance with EN ISO 13849-1, both safety outputs (OA and OB) must be evaluated.
Wire front release (bowden)
The wire front release permits remote unlocking of the guard locking via a pull wire. Flexible routing of the pull wire permits release of the guard locking in inaccessible installation situations.
Important: The wire front release (bowden) is not a safety function.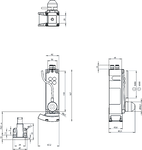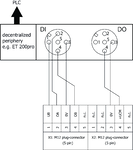 100% Germany Origin
Euchner Vietnam
Article: CET3-AP-CRA-AH-50X-SI-C2290-121367 Safety Sensor
Order no.: 121367
Safety switch
100% Germany Origin
Euchner Vietnam
Article: CET-A-BWK-50X
Order no.: 096327
ACTUATOR
Báo giá ngay – Hàng chính hãng – Bảo hành 12 tháng – Tư vấn hỗ trợ kỹ thuật 24/7
=> Xem thêm sản phẩm của PitesCo tại đây
——————–//——————–
THÔNG TIN CHI TIẾT LIÊN HỆ:
🏪
Văn phòng: số nhà 21 đường số 12, Khu đô thị Vạn Phúc, Phường Hiệp Bình Phước